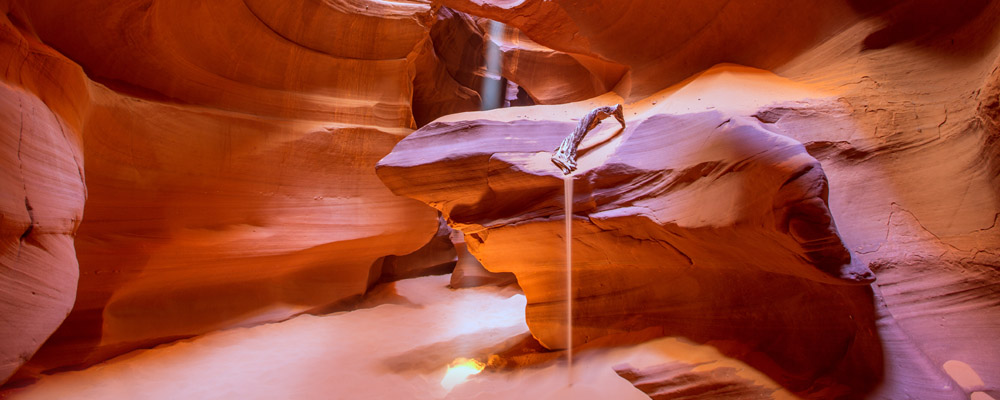 All the pictures on this page are my own work. Each one expresses some aspect of my Christian Faith. I believe the scriptures were given to us to be believed exactly as they are presented to us: when poetry, as poetry, when parable, as parable, when allegory, as allegory, when prophecy, as prophecy, and most of all, when narrative and history, such as Genesis and Exodus and Mark and Luke and Acts, as narrative and recorded history.
None of the artwork presented here would be in existence without a prophecy given to me by Jennifer Rees Larcombe. Her ministry is called Beauty from Ashes and following a talk in my Church she was kind enough to pray for me. This was at a time when I had developed a hatred for all artwork and cursed the talent I had been given. I had by that time been a commercial artist for twenty years. She told me I would produce prophetic art that would touch many people. Up to that time I had no thought about producing paintings inspired by the biblical stories. My belief is that God restored this to me in accordance with the promise of His Word: that His calling and His gifts are given irrevocably. His will is not withdrawn even when we turn away and give up on what we have been given. Repentance is required, but the act of repentance is honoured by God and according to His promise I believe I received back what I had cursed and abandoned….Chris Higham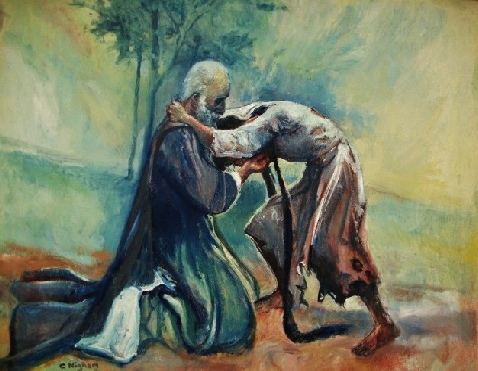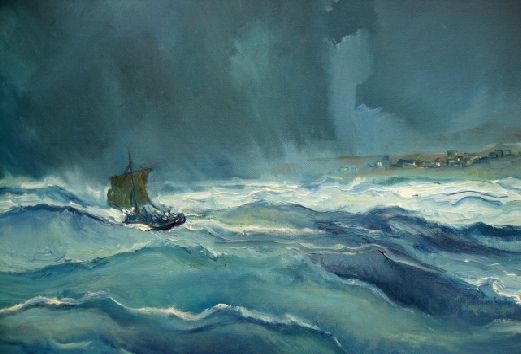 THE STORM ON THE LAKE
Jesus spoke two words of command: "be still" and a storm so fierce that it had terrified experienced fishermen immediately ceased.
That is God made Man demonstrating His power and authority over the Laws of Physics. To deny that this account is a true event is to accuse a group of men who had no motive to lie of making up a story. Their belief:that the man who called the forces of nature to heel like a shepherd his dog was truly the Son of God. This confidence in the power and authority of Jesus held fast through every possible incentive to deny that belief, including fear for their lives. Most of them died for their faith at the hands of those who did not believe.
JESUS RAISES A DEAD GIRL TO LIFE
Jesus went across the Sea of Galilee in a boat. It landed at the other side. There a large crowd gathered around Him. Then a man named Jairus came. He was a synagogue ruler. Seeing Jesus, he fell at his feet. He begged Jesus, "Please come. My little daughter is dying. Place your hands on her to heal her. Then she will live." So Jesus went with him.
MARK CHAPTER 5
The girl was twelve years old.
Jesus banished all the mourners from the room and prayed for her.
She was healed and Jesus demonstrated that his power knew no limit: not even over the power of death.
THE PRODIGAL SON
The story of the wilful, self-centred son who takes everything he can from his Father and leaves the one place where he is safe to spend his life as so many do in satisfying all the desires of our nature. With riches, hedonism becomes the ultimate joyride: at least for a while.
With everything lost he decides life back home, even as a slave would be preferable to the life he is now living. He expects little, he knows he deserves nothing. But his Father who daily searched the distant horizons for the day of his son's return, sees him coming home and runs towards him, hugs him, and restores everything including his status and position.
That is the true nature of our Father God as described by His Son Jesus Christ.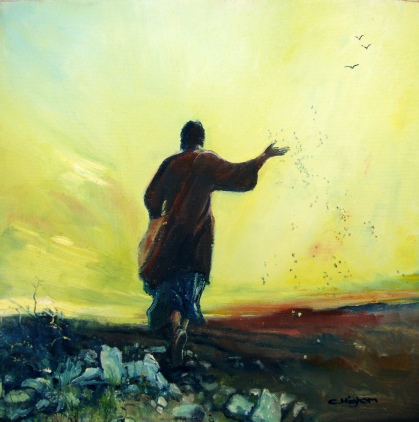 THE SOWER
This parable is primarily about the ground the seed falls into.
It is our responsibility to decide the state of the ground. The seeds will be scattered by the Sower because God is a generous giver, but if the ground is poor or resistant to his word or wide open to those who would rob or steal what we have been given then we are the losers.
If it is sown in good ground it will give a good, hugely magnified return. The parable is not complex, it is horribly simple, but most of us are not interested in being open to God; we are by nature more interested in being open to anything but God.
The price of receiving this seed is not costly other than in terms of pride. We must humble ourselves, repent of our sins and take him at his word. He desires to save and redeem you, the cost to him was humiliation, torture and death.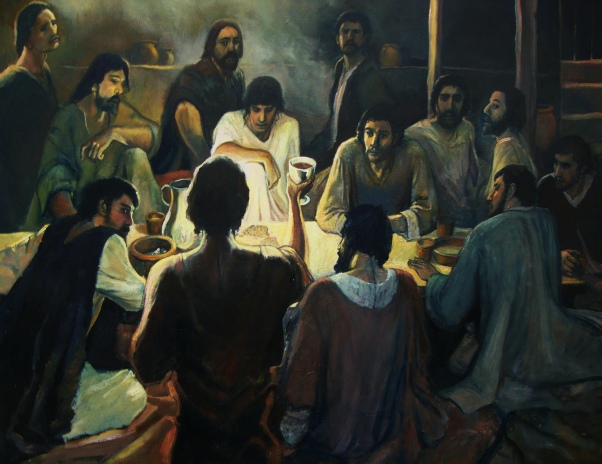 THE LAST SUPPER
These men, the disciples of Jesus were not anything like the super-spiritual heroes we imagine them to be. They were to a man confused, afraid and uncomprehending. Jesus had spoken about what was to happen to him, but they just could not receive it; not until afterwards, not until the arrest, crucifixion and resurrection of Jesus were all over was the glory and fulfilment of all his words made real to them. If we think we are better then we fool ourselves; we have an equal problem believing the Word of God. One example of this is our failure to believe the creation accounts in Genesis, confirmed in both the book of Exodus and the New Testament.
A LAMB TO THE SLAUGHTER
'Each of us has turned to his own way; but the LORD has caused the iniquity of us all to fall on him. He was oppressed and he was afflicted, Yet he did not open his mouth; Like a lamb that is led to slaughter, And like a sheep that is silent before its shearers, So he did not open his mouth. By oppression and judgment he was taken away; And as for his generation, who considered that he was cut off out of the land of the living for the transgression of my people, to whom the stroke was due?' ISAIAH 53
He fell to his knees carrying the weight of the cross and our sin. We deserved the death he took upon himself so that we may live.
MARY AND MARTHA
The two sisters were of very different character; Martha was busy, efficient and liable to be critical. Mary is portrayed as more quiet and contemplative.
Jesus did not do what we tend to do to keep the peace: say how much he appreciated both the listening role adopted by Mary and the busy getting the meal ready for a household of hungry guests chosen, no doubt out of habit, by Martha.
Jesus said that Mary had chosen the better part. Which is a lesson to us, to listen to our God rather than getting too absorbed in the day to day running of our households, business etc, or getting too absorbed in the pursuit of leisure.
PETER FOLLOWING HIS BETRAYAL: DENYING WITH SWEARING AND CURSING THAT HE KNEW JESUS
I wanted to do this painting but had no idea how until it occurred to me that if I had done such a thing then I would not know what to do with myself. I do not believe Peter would have sought out the company of his friends or wanted even to knock on the door or climb the steps to the room he had left following the last supper only a few hours earlier.
Many of us have felt the weight of depression, exhaustion and shame. It is hard to bear and difficult to imagine things ever changing. With God we can endure such times knowing that at the end of it there is a judge who is willing and able to reinstate us, sometimes to the position we have lost, at others to something that on looking back we can see was even better.
Peter who following his betrayal of his lord and friend must have expected nothing, in fact had returned to him the position of head of the Church.
These men were so like us, and so approachable for that reason, we can understand them and they are not the plaster saints we have so often mistaken them for. They were sinners, we are sinners, we all needed a Saviour and in Jesus we have our Saviour.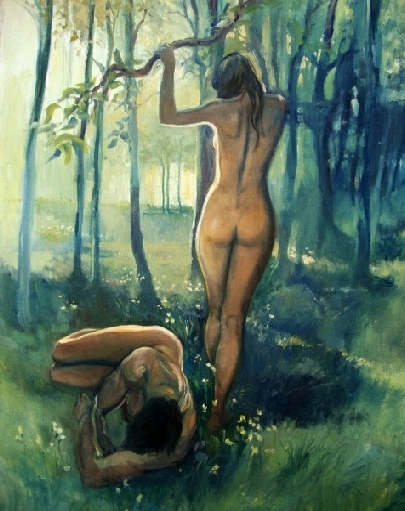 ADAM AND EVE
They are a controversial couple. Did they exist? Are they just an idealised pair that illustrate a story about paradise gained and lost, or are they exactly as portrayed in Genesis: the original couple, created on Day 6 as fully mature?
If they were not created on Day 6 and did not really sin and bring death and hardship upon the entire human race, then Paul's theology of sin and its punishment and the teaching of Jesus on Marriage and the character and trustworthiness of God all go up in smoke.
The Scriptures are quite clear and plain and straightforward. God created them male and female. He created them sexually attractive to one another. He made them physically and emotionally compatible so as to be enabled to love and reproduce after their kind. Male and female, drawn together to have children and to bring them up as families, so that children should know a father and a mother.This is clear from our different body parts, each designed for their purpose.
It has taken the corruption and denial of biblical teaching to turn God's clearly stated intentions into the ways we follow today, and at such great cost.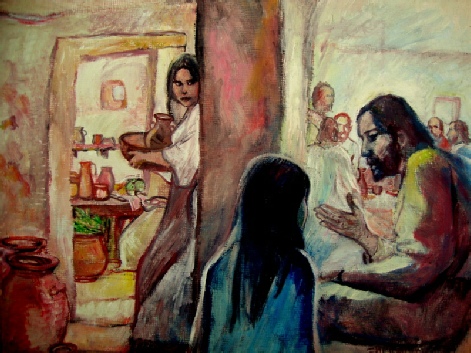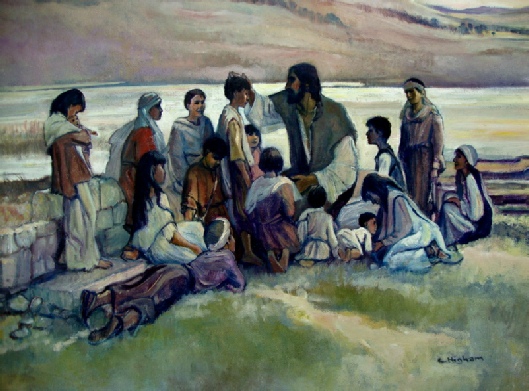 JESUS AND THE CHILDREN
'Then some children were brought to Him so that He might lay His hands on them and pray; and the disciples rebuked those that brought them. But Jesus said,
"Let the children alone, and do not hinder them from coming to Me; for the kingdom of heaven belongs to such as these."
And he said:
"Truly I tell you, unless you change and become like little children, you will never enter the kingdom of heaven."
After laying His hands on them, He departed from there.'
MATTHEW CHAPTER 19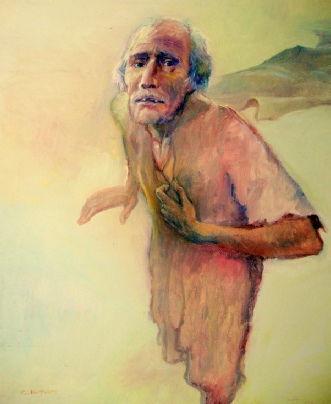 JESUS HEALS THE BLIND BEGGAR
As he drew near to Jericho, a blind man was sitting by the roadside begging. And hearing a crowd going by, he inquire what this meant. They told him, "Jesus of Nazareth is passing by." He cried out, "Jesus, Son of David, have mercy on me!" Then those who were in front rebuked him, telling him to be silent. But he cried out all the more, "Son of David, have mercy on me!" And Jesus stopped and commanded him to be brought to him. Then when he came near, he asked him, "What do you want me to do for you?" He said, "Lord, let me recover my sight." And Jesus said to him, "Recover your sight; your faith has made you well." Immediately he recovered his sight and followed him, glorifying God, and all the people, when they saw it, gave praise to God.
LUKE CHAPTER 18
If you think God has no interest in you then think again. He misses no-one. The rest of the world may pass by but Jesus heard this single cry for help in a city full of sound.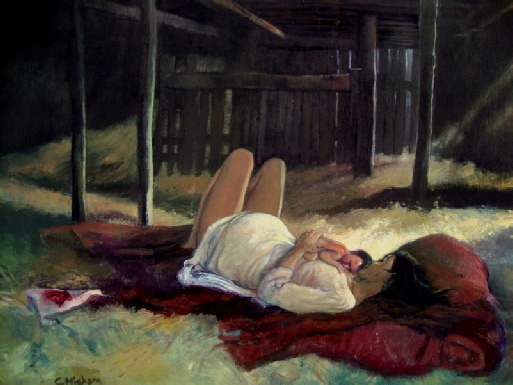 THE BIRTH OF JESUS
I was intent on painting this picture without most of the pious imagery normally associated with this account. If it is in bad taste I apologise, but it seems to me that to dress up a story which the scriptures dresses down is in itself something of a mockery.
This birth of Jesus happened amidst great danger to a couple who must have felt like unwanted refugees in the small town of Bethlehem, one overwhelmed with visitors because of the census imposed by the emperor Augustus Caesar.
The greatest event in world history occurred while attracting the attention of a relative few: astrologers from the East and some nearby shepherds.
THE DARKNESS AT THE TIME OF THE CRUCIFIXION
There are not only scriptural references to the fact that a darkness descended on Jerusalem between the hours of 12 am and 3 pm.
Two pagan historians recorded this occurrence, putting it down to a solar eclipse. This is of course nonsense as an eclipse cannot last longer than eight minutes. The darkness is recorded as lasting for three hours, also the date as specified by one of these pagan writers is the year of the death of Jesus.
As for the gospel writers, their accounts were written testimony and part of their Gospel message to the people of Jerusalem. This was little more than twenty or thirty tears after the event. Consequently large numbers of the generation that lived around AD 30 must have still been alive and well. These would include many of those in authority, both Roman and Jewish. There is no known record of accounts challenging this miraculous darkness either in the written or verbal testimony of the first generation Christian Church.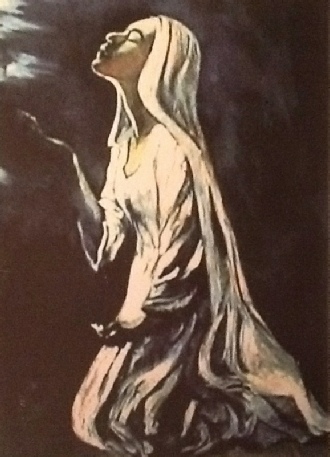 THE ANNUNCIATION
"In the sixth month the angel Gabriel was sent by God to a town in Galilee called Nazareth, to a virgin engaged to a man whose name was Joseph. The virgin's name was Mary. And he said, "Greetings, favoured one! The Lord is with you." But she was much perplexed by his words and pondered what sort of greeting this might be. The angel said to her, "Do not be afraid, Mary, for you have found favour with God. And now, you will conceive in your womb and bear a son, and you will name him Jesus. He will be great, and will be called the Son of the Most High, and the Lord God will give to him the throne of his ancestor David. He will reign over the house of Jacob forever, and of his kingdom there will be no end." Mary said to the angel, "How can this be, since I am a virgin?" The angel said to her, "The Holy Spirit will come upon you, and the power of the Most High will overshadow you; therefore the child to be born will be holy; he will be called Son of God." Then Mary said, "Here am I, the servant of the Lord; let it be with me according to your word."
Then the angel departed from her.
LUKE CHAPTER 1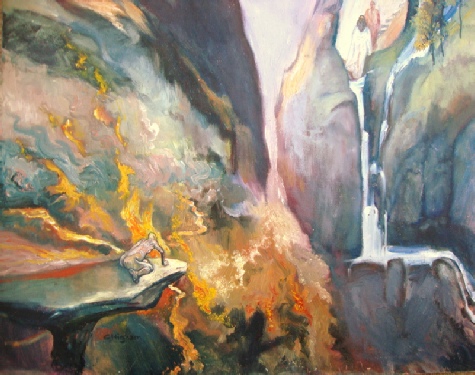 THE RICH MAN AND THE BEGGAR
An uncomfortable story of God's justice. A rich man enjoys his riches throughout his lifetime but fails to lift a finger to make the life of the beggar who lives outside his gate more bearable. Both die:the beggar named Lazarus is seen being comforted by Abraham across the gulf set between heaven and hell.The rich man cries out that he might at least be allowed to warn his brothers of what might happen to them also. Abraham replies prophetically saying:
'If they do not listen to Moses and the Prophets, they will not be convinced even if someone rises from the dead.'
The warning is this, we do have one who has risen from the dead and warned us, but the great majority do not care to listen.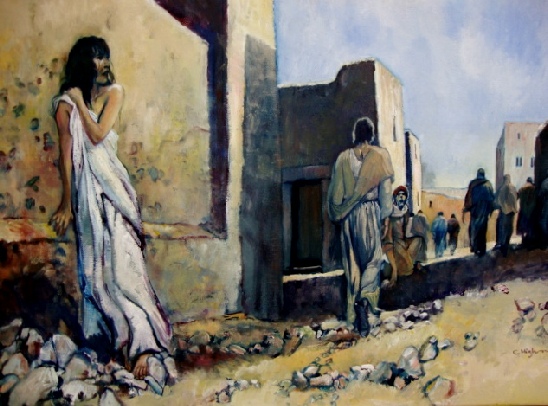 THE WOMAN CAUGHT IN THE ACT OF ADULTERY
The law stated that the woman should be stoned to death. The Pharisees were intent on testing Jesus and his interpretation of the Law he upheld better than the teachers of this Law.
He said: 'Let him who is without sin cast the first stone.'
Beginning with the eldest they turned and walked away.
Many people believe harsh things about the justice of God. Here is Jesus, the Creator of the world, the incarnate God, showing us that if it is possible to forgive and save and redeem and bless he will always do so.
ON THE MORNING OF THE THIRD DAY
No power or empire could stop the word of God being fulfilled exactly as the prophets had stated and Jesus had foretold. There is almost no historically recorded account from the ancient world that is as convincing in terms of evidence as that of the Resurrection.
It is obvious from the scriptures that none of the disciples, including the women, doubted that Jesus was anything other than dead and buried. Both as a group and as individuals they were lost, fearful and depressed. His subsequent appearances to them and others, were unsurprisingly difficult to assimilate.
Vengeance is mine! says the Lord
'…having cancelled out the certificate of debt consisting of decrees against us, which was hostile to us; and He has taken it out of the way, having nailed it to the cross. When He had disarmed the rulers and authorities, He made a public display of them, having triumphed over them.'
COLOSSIANS CHAPTER 2
'Now is the time for judgment on this world; now the prince of this world will be driven out.
JOHN CHAPTER 12
'Then the end will come, when he hands over the kingdom to God the Father after he has destroyed all dominion, authority and power.'
1 CORINTHIANS CHAPTER 15
The battle that has waged throughout history will be ended when Jesus finally crushes Satan beneath His feet.
Jesus already has the victory over sin and death and Satan. The chapters have been written. You will find this future history laid out in apocalyptic language in the Book of Revelation, written by the apostle John.
I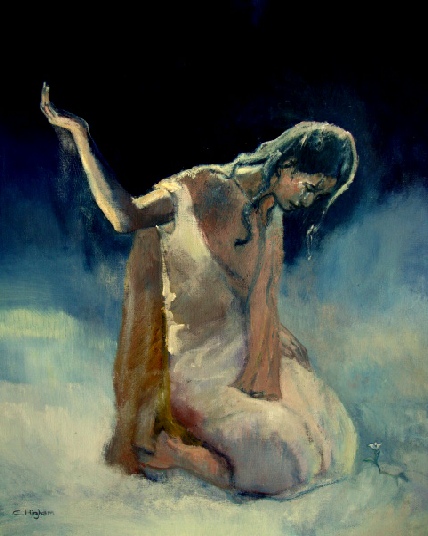 A SIGN OF HOPE
In painting this I was thinking about Mary Magdalen, and how before she was healed by Jesus she may have sought out and inhabited places like the Jerusalem's rubbish tip.
It was was called Gehenna. A place that was kept in flame smoke day and night, the fires that never went out.
Jews when desperate and distressed often cover themselves and their heads in dust and ashes. So I have depicted Mary, her face sore and bruised from continual weeping looking down and seeing thrusting up through the ground a small apparently fragile white flower: a sign of hope that life can conquer almost every adversity. But the apparently fragile are often stronger than they look, as was Mary Magdalen, the faithful disciple of Jesus and the first witness of his Resurrection.
You may consider how honest the writers of the New Testament were when writing their accounts. A woman's testimony was worth nothing at that time under Jewish Law. But they wrote that Mary was the primary witness to the reality of the Risen Jesus.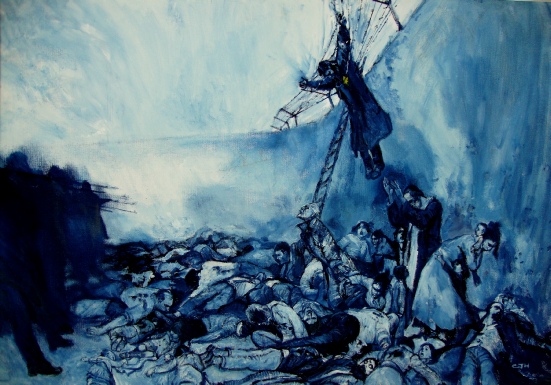 THE HOLOCAUST
The result of the Fall of mankind as a result of the sin of Adam would swiftly lead to a world sunk deep into the totality of vice and violence.
We have had enough examples of man's wickedness over the century to end any doubt about the state of our fallen nature: Hitler's insane hatred for the Jews and perhaps by proxy, the God of the Jews, Jesus Christ.
At the time of Noah God said this about the state of mankind.
'And God saw that the wickedness of man was great in the earth, and that every imagination of the thoughts of his heart was only evil continually.'
GENESIS CHAPTER 6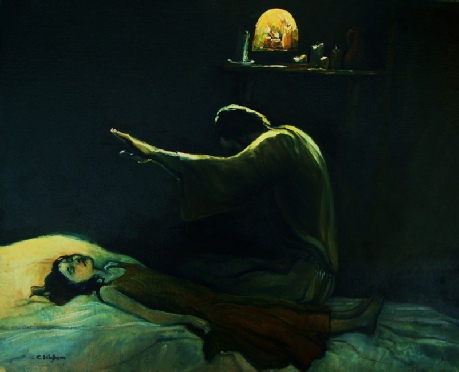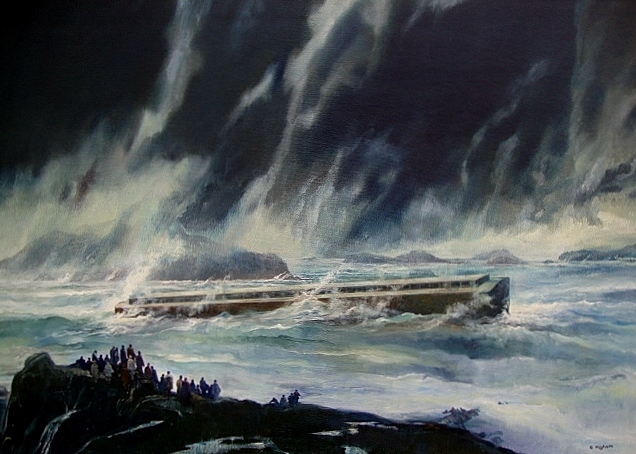 THE FLOOD!
God's response was to judge the world that man had made. One in which some form of evil was the intention of every thought that passed across the mind of humankind. The reality of this story of a global flood is illustrated by flora and fauna mass graveyards and extinctions, and the geology of the earth which is characterised by geological features that are unlike anything occurring in our time.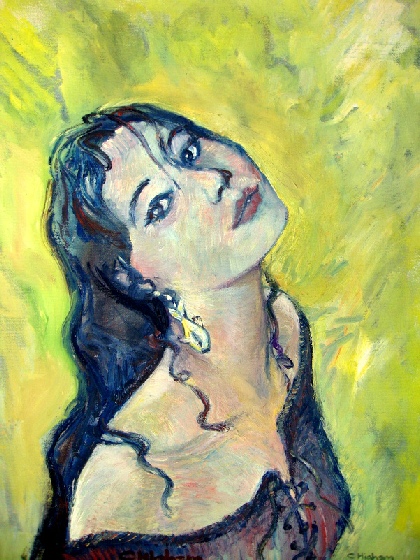 GOMER: THE WIFE OF THE PROPHET HOSEA
If anything proves that the nature of humankind is bent towards anything other that its Creator then this proves it. God often used prophets to illustrate how he feels about his children. He shows us that without him we are utterly lost, our ability to respond is so compromised that he is prepared to lay it out before us as crudely as this: Hosea is told to take a harlot as his wife. The inference is clear enough. His people were, and I believe still are as promiscuous as Gomer. God's feelings are as any married man would be if the love of his life was open to any offer from any source other than that offered by her good and faithful husband.
When the LORD began to speak through Hosea, the LORD said to him, "Go, marry a harlot and have children with her, for like an adulterous wife this land is guilty of unfaithfulness to the LORD."
But God is not like us as is demonstrated by his words to Hosea.
The LORD said to me:
"Go, show your love to your wife again, though she is loved by another man and is an adulteress. Love her as the LORD loves the Israelites, though they turn to other gods…"
The paintings are not arranged as you might expect. Old Testament paintings are sometimes placed next to New Testament paintings. The reason is that themes from both Old and New often cross over, relating directly or indirectly to one another. The ministry, works and words and references of Jesus constantly relate back to the history and prophecies of the only scriptures known at the time of Jesus and his apostles. So that is the reason and all is explained in the text.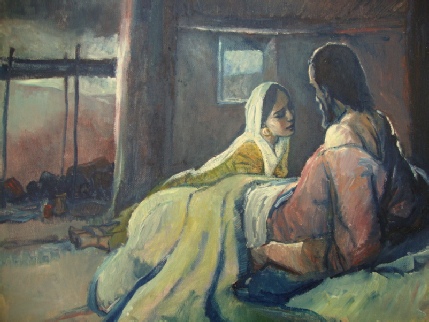 ESCAPE FROM SODOM
Lot and his two daughters are the only survivors of the judgement that fell upon the cities of Sodom and Gomorrah. They were told not to look back. I have shown the father trying to protect his daughters from this temptation which caused their mother to lose her life.
One of these young women was to become the ancestral mother of a people called the Moabites. The significance of this can be found in the picture opposite.
RUTH AND BOAZ
The story written in the book of Ruth is long and complex. But Ruth was a Moabite who became an Israelite so as to support her mother-in-law Naomi. As a result of this family connection Ruth became the wife of Naomi's kinsman Boaz. They had a son, Obed. He had a son named Jesse who fathered King David.
This genealogy is found in Luke's Gospel, It traces the family line of Jesus all the way back to Adam.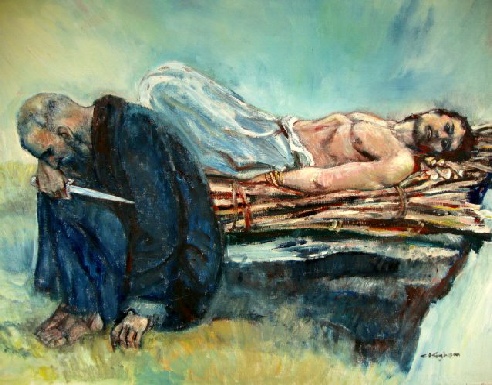 THE SACRIFICE
Abraham is commanded by God to sacrifice his only son Isaac. Isaac was a miracle child, the child of a promise made by God to Abraham and his wife. God's promise had been that Abraham would have descendants as many as the stars in the sky and the grains of sand on the seashore. Abraham's faith was such that he took his son up mount Moriah to do as God commanded. At the last moment God prevented him from slaying his son, saying that he, God would provide the sacrifice.
The city of Jerusalem was built on the summit of this same mountain. Nearly 2000 years after Abraham and Isaac had ascended to that same place, Jesus, the Son of God and Creator of the universe became the sacrifice God promised to provide. He would have been crucified just a short walk from the place where Isaac lay.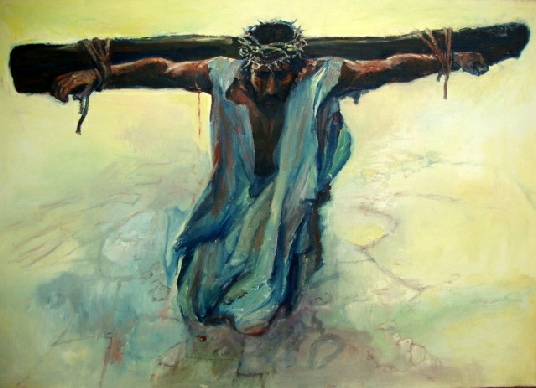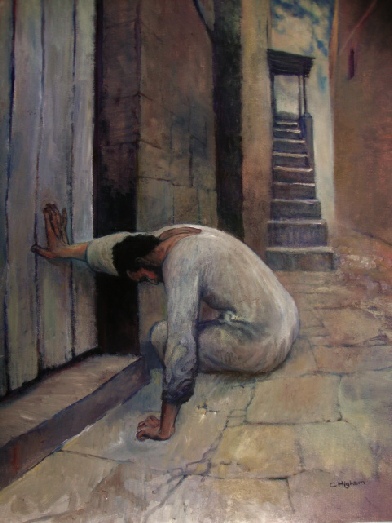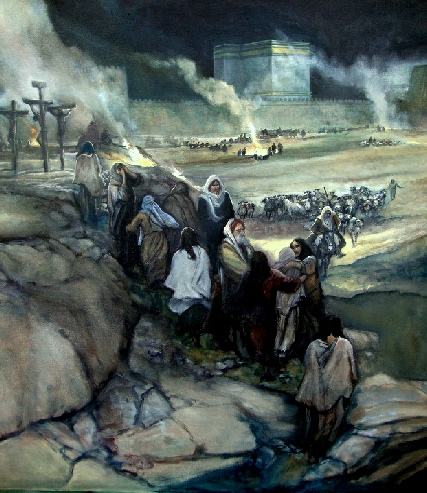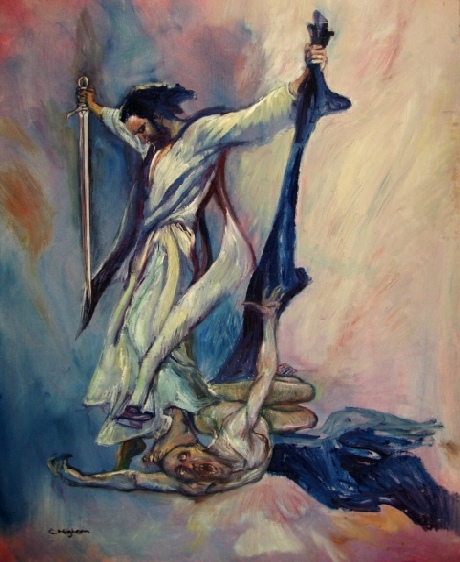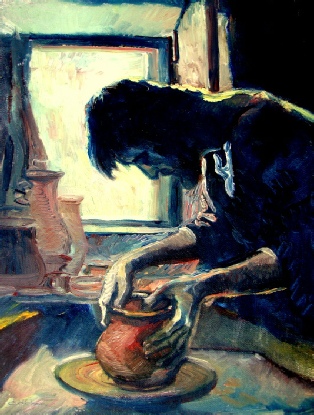 THE HOUSE OF THE POTTER
"This is the word that came to Jeremiah from the Lord: "Go down to the potter's house, and there I will give you my message." So I went down to the potter's house, and I saw him working at the wheel. But the pot he was shaping from the clay was marred in his hands; so the potter formed it into another pot, shaping it as seemed best to him."
JEREMIAH !8
God will, if necessary not just make do and mend, he will start again from scratch just as the potter did in front of the prophet Jeremiah. Our human species, according to population geneticists, is degrading, like our planet, solar system, galaxy and universe. It is as the Bible states wearing out like a garment, shredding into holes:maybe black holes are telling us something. God is going do a new thing.
"Then I saw a new heaven and a new earth; for the first heaven and the first earth passed away…I saw the holy city, new Jerusalem, coming down out of heaven from God, made ready as a bride adorned for her husband."
REVELATION 21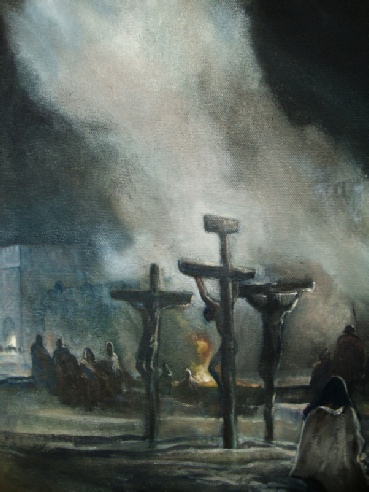 IT IS FINISHED
'"It is finished!" - the great victory of completed sacrifice. When he had received the vinegar, he said it is finished! and he bowed his head and delivered up his spirit. The other evangelists record yet another word of Divine and sublime submission, "Father, into thy hands," etc. John simply adds the climax, and leaves the Divine, inscrutable, mysterious fact in its awful grandeur. The world's debt was paid. The types and symbolism of the old covenant had been adequately fulfilled. The mighty work, undertaken by him who would realize the expectations of the oldest prophets….Every iota and tittle of the Law had been magnified. The reality of which the temple and the sabbath were shadows, the priesthood and the offerings innumerable were figures, had all been realized….From the ground of human nature, from the heart of the Man in whom all the wants, perils, sins, mysteries of the human race were gathered up, has gone the adequate admission of the righteous judgment of God against that nature in its present condition. Death itself becomes, not his shame, but his veritable glory.'
MATTHEW HENRY'S COMMENTARY
How could death be his glory? Because He had conquered it, rendered it powerless, and opened up the prospect of eternal life
THE LION AND THE LAMB
This image is taken loosely from the writings of the prophet Isaiah. His description of the promised future when peace will be restored to the Kingdom of God on a new earth under new heavens. Then all things will be made new, and much better than restored, transformed in ways beyond our understanding or imaginations.
The lion laying down at peace with the lamb is the image we have created from Isaiah's vision of a perfect world.
Jesus is both the Lamb of god and the Lion of Judah. For the moment let that be enough to wet our appetites for a faith that can move mountains.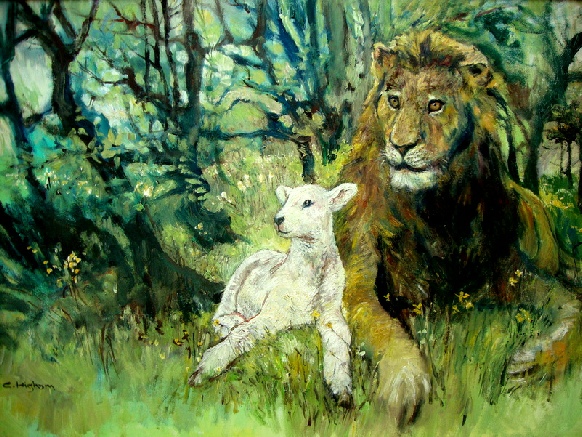 FINALLY THERE IS THE JUDGEMENT ON THE WORLD OF SIN
There is no way to make this sound or look nice. God, in the form of Jesus will return to Judge the living and the dead. The world will see trouble such as there has has never been seen. Evil will have its day in all its fullness and in the midst of that fullness it will meet a power greater than it will acknowledge or comprehend. The reality is laid out before anyone who cares to look. Jesus speaks about it Matthew 25 and John's Revelation spells it out in apocalyptic language.
We know as a matter of experience that the old has to make way for the new. A new Heaven and Earth is promised.
He will wipe every tear from their eyes. There will be no more death' or mourning or crying or pain, for the old order of things has passed away."
REVELATION CHAPTER 21
In the last days mankind will worship himself as if he were a god and follow his own ways to his destruction
"In those days there was no king in Israel; everyone did what was right in his own eyes."
JUDGES