THERE IS ONE LAW OF SCIENCE THAT SHOULD STOP EVOLUTION IN ITS TRACKS. ACCORDING TO SCIENCE THERE IS ONLY ONE PROVEN AND TESTED WAY TO CIRCUMVENT THE PROCESS THAT PREVENTS NATURAL THINGS FALLING APART OR INTO INCREASING DISORDER. BUT SURPRISINGLY PERHAPS, IT IS THE ONE AND ONLY THING EVOLUTION DOES NOT AND WILL NOT PERMIT AT ANY COST.
IT WILL NOT ALLOW INTELLIGENT INTERVENTION, PLANNING OR WORK KNOWINGLY DIRECTED TOWARDS A PURPOSE.
YOUR GARDEN DOES NOT BECOME A COMPLETE WILDERNESS IF YOU ATTEND TO IT AT LEAST ONCE A YEAR. YOUR CAR IS LESS LIKELY TO FALL INTO DISREPAIR IF YOU GET IT REGULARLY SERVICED. IF YOU FAIL TO DO THESE THINGS THEN EVERYTHING YOUR PARENTS TOLD YOU WILL SURELY HAPPEN. FOR EXAMPLE: LOOK AFTER YOUR TEETH OR THEY FALL APART AND COST YOU A LOT OF MONEY.
NONE OF THESE TRUTHS SIT WELL WITH EVOLUTIONARY THEORY.
Evolutionists deny the known effects of one of the greatest laws of science: the Second Law of Thermodynamics. In doing so they set themselves up as the ultimate in optimists, because everything naturally tends towards decay, disorder and breakdown. This law is set aside by Darwin's Theory of Evolution.
To get a good, clear, unambiguous quote in order to prove this point you have to go back a few years.
"The evolution of life is an anti-entropic process, running counter to the second law of thermodynamics with its degradation of energy and its tendency to uniformity"
Julian Huxley, Introduction, Teilhard de Chardin, Phenomenon of Man (1959)
The progress of mankind since those words were written seem to underline its truth.
If evolution is correct then we should expect to see a progression in fitness, and an increase in diversity and complexity of every kind and in every sphere of life. And while this cannot be demonstrated in nature generally, it can as far as the history of mankind is concerned; advances in both science and technology seem to provide a good case for Darwin's theory. The evidence is everywhere and cannot be doubted. If however the bible is true then we should expect to be able to trace a fall from an original perfect state and an inevitable slide towards the degeneration and breakdown of organised systems. In other words if the Genesis account is correct then the existence of a Law of Entropy would not be unexpected; in fact it would be predicted.
It is however possible and not unreasonable to argue that each generational advance is built on the work of the generation that preceded it, as Isaac Newton stated:
"if I have seen further it is by standing on the shoulders of giants."
In 1159, John of Salisbury wrote in his Metalogicon:
'Bernard of Chartres used to compare us to [puny] dwarfs perched on the shoulders of giants. He pointed out that we see more and farther than our predecessors, not because we have keener vision or greater height, but because we are lifted up and borne aloft on their gigantic stature.'
An illustration of New Testament evangelists on the shoulders of Old Testament prophets, looking up at the Messiah (from the south rose window of Chartres Cathedral) The visual image (from Bernard of Chartres) appears in the stained glass of the south transept of Chartres Cathedral. The tall windows under the Rose Window show the four major prophets of the Hebrew Bible (Isaiah, Jeremiah, Ezekiel, and Daniel) as gigantic figures, and the four New Testament evangelists (Matthew, Mark, Luke, and John) as ordinary-size people sitting on their shoulders. The evangelists, though smaller, "see more" than the huge prophets (since they saw the Messiah about whom the prophets spoke).
The phrase also appears in the works of Isaiah di Trani (c. 1180 – c. 1250):
'I heard the following from the philosophers. The wisest of the philosophers asked: "We admit that our predecessors were wiser than we. At the same time we criticize their comments, often rejecting them and claiming that the truth rests with us. How is this possible?" The wise philosopher responded: "Who sees further a dwarf or a giant? Surely a giant for his eyes are situated at a higher level than those of the dwarf. But if the dwarf is placed on the shoulders of the giant who sees further? ... So too we are dwarfs astride the shoulders of giants. We master their wisdom and move beyond it. Due to their wisdom we grow wise and are able to say all that we say, but not because we are greater than they.'
If this is true then the entire picture is changed. We are no longer necessarily the greatest of our species, we are just the latest generation and the recipient of an accumulation of learning accrued over thousands of years. If Isaac Newton could say what he did then why should any scientist of our generation say anything different?
Take away the claim based on technology and what do we have? Have wars and rumours of wars and ethnic cleansing decreased over the last century? Is egotism and greed and self interest lessening? Is corruption less, is ethical behaviour honoured? Are the arts and sciences really proof that we have evolved? Are we at ease with the society that is developing around us? One largely based on the abandonment of our God and the moral order that underpinned the structures which once held society in place. Was it perfect? No, of course not: it was presided over by sinful man and his systems of government. As stated above there is a well established law of science that predicts a downward direction leading towards systematic degeneration and breakdown. The Cornell University population geneticist John Sanford says: the trajectory is "down not up". That is a biblical conclusion based on the fall of mankind and it fits most of the facts, and those it doesn't can be explained by standing or sitting on the shoulders of giants.
The great questions relating to our purpose that were fixed to the belief that we were created by God have been replaced by the conviction that we are just another animal that arose through a thousand lines of ancestral ascent. This story states that the miracle of life first occurred by accident and evolved out of some underwater thermal vent or primeval slime. That's quite a fall from the view taken by the writer of book of Genesis. This portrays us as created out of the dust of the earth, but crucially with no evolutionary past, male and female, created fully mature and equipped to procreate. Called into being as sons and daughters of our Creator God. Genesis describes a Fall from our original state, and how fast we fell. The graph of the ages of the biblical patriarchs following Noah tells a story that correlates to that of scientific data. Entropy and the inexorable build up of mutational damage would account for what the bible describes in the Genesis genealogy, an otherwise inexplicable fall from great ages to those who see today: from near one thousand years of life to near one hundred years. This represents a typical biological decay rate according to Sanford. Did the writers of the Bible conspire to produce these results knowing that in the twentieth and twenty-first centuries we would be debating these very issues?
So let's face the question, are we the product of an evolutionary upward curve or the fallen remains of a once magnificent and chosen race? The evidence seems to point to the fact that we modern humans are enfeebled in comparison with those of the past. We are physically smaller and weaker and less fit, and to make matters worse there is the question of what happened to the Big Brain theory: the belief that we are evolving ever upwards. The fact is that our brain size is less than those of our forefathers. Evolutionists do not deny the fact that our brains have shrunk in comparison to our forebears, but argue that the bigger brain of these remote ancestors was used less efficiently than ours.
But where is the evidence for that? How do they know, and why do they make that assumption? Following the order of the questions the answers are: there is none, they don't, and they can't stand the obvious conclusion.
"A study by Cambridge University found that mankind is shrinking in size significantly.
Experts say humans are past their peak and that modern-day people are 10 percent smaller and shorter than their hunter-gatherer ancestors. And if that's not depressing enough, our brains are also smaller.The findings reverse perceived wisdom that humans have grown taller and larger, a belief which has grown from data on more recent physical development. The decline, said scientists, has happened over the past 10,000 years. They blame agriculture, with restricted diets and urbanisation compromising health and leading to the spread of disease. The theory has emerged from studies of fossilised human remains found in Africa, Europe and Asia."
Quoted from the Mail Online / Science section.
I will conclude by taking a look at the Great Pyramid at Giza. It stands as a demonstration of the intelligence and knowledge of ancient mankind. Pyramids had been built in Egypt prior to this one around a century earlier, but they were not of this design. The architect of the Great Pyramid was clearly a genius; which gives rise to the question, were the minds and muscles of those who designed and constructed this pyramid, without modern technology, greater than those who design and construct modern buildings? Because modern architects and engineers are gifted with all the advantages of modern technology and the immense accumulated and documented knowledge of those who preceded them?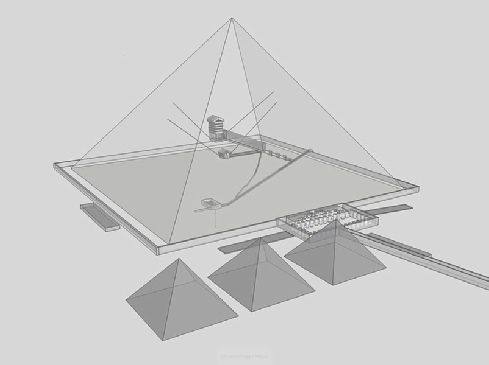 Transparent view of Khufu's pyramid from SE / Source Own work / Author R.F.Morgan
The following from Wikipedia gives a small hint at just how amazing this building is. There are many experts who have studied this pyramid but there is still to this day no consensus about how it was constructed
"At completion, the Great Pyramid was surfaced by white "casing stones" – slant-faced, but flat-topped, blocks of highly polished white limestone. Petrie related the precision of the casing stones as to being "equal to opticians' work of the present day, but on a scale of acres" and "to place such stones in exact contact would be careful work; but to do so with cement in the joints seems almost impossible". It has been suggested it was the mortar (Petrie's "cement") that made this seemingly impossible task possible, providing a level bed which enabled the masons to set the stones exactly."
There is evidence to support the notion that we are an evolved species, but there is a great deal more to suggest that we are devolving. Mental and physical disorders, especially among the young and elderly are increasing at an alarming rate. This ongoing tragedy is being driven by genetic entropy: mutation rates that cannot be halted. Population geneticists seem to be of one mind, which is that we are becoming less and less fit in terms of the health of our genomes. There is nothing more serious for us as a race than the consequences of this example of entropy and the Second Law of Thermodynamics.
It is time we rethought our expectations. We are not heading upwards towards Theilhard de Chardin's omega point. We are approaching the lower basement, having descended from the penthouse.